McCann's Bookkeeping & Tax Service is the right choice for your business!

Puzzled over your current accounting system?

McCann's Bookkeeping & Tax Service can help you put all of the pieces together! No matter what business you are in, no matter how big or small your business is ---you need customized financial reports every month in order to manage your business successfully. Our expertise provides small business with the fast, accurate and concise financial records you need to top off your bottom line.

We exist to help solve the many problems confronting small business owners. You're in business to make a profit; we're in business to help you maximize that profit.

Please call for more information and a free initial consultation.

However small your business, you'll find that McCann's Bookkeeping & Tax Service can help your finances make dollars and sense.

"A Business Partner For YOUR Accounting Needs!"


Doing accounting work for your own business runs the risk of:

1) Penalties due to errors
2) Less time with family and customers
3) Hidden fees of a full time employee, such as vacations, sick time, unemployment taxes, and health insurance
4) Stress regarding the accuracy of your financial statement information
5) Uncertainty concerning tax deduction issues

McCann's Bookkeeping & Tax Service can give you an advantage:

1) Avoid penalties due to errors
2) Spend more time doing what you do best
3) Avoid hidden fees of a full time employee
4) Have access to an accountant who knows your particular business needs
5) Increase revenue by tracking your expenses
6) Make cost effective business decisions
7) Timely reports
8) Review and analysis of your financial statements
9) Freedom from time-consuming data entry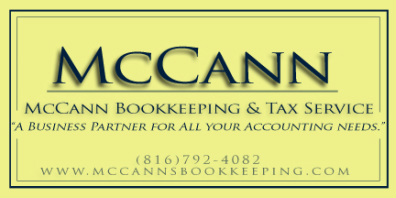 Customized Quote Consultation
Please bring the following with you so that I can give you a
free
quote, customized to your particular business needs.
Copy of the check register or check stubs preferably with descriptions as to what these expenses are for. Example: Southwestern Bell could be telephone expense or advertising.
Cash Receipts / Sales Journal: Totaled and Balanced. Please make a note when personal money or Loan deposits are put into the business by the owner or stockholder so that it is not recorded as income.
Bank statements with canceled checks and deposit slips if possible.
Business credit card statements.
Copies of paperwork on any assets purchased such as: Furniture and Equipment, Vehicles, Land or Buildings, Investments.
Copies of paperwork on Loans, Leases or Lines of Credit.
Payroll information:
1. Federal and State ID #'s and booklets
2. Employee information W-4's with Name, Address, and SS #
3. Payroll frequency
4. State unemployment Rate and ID#
Articles of Incorporation (if applicable)